Boots ALPINESTARS J-6 Waterproof Brown
Boots motorcycle Alpinestars
Política de seguridad (editar con el módulo Información de seguridad y confianza para el cliente)

Política de envío (editar con el módulo Información de seguridad y confianza para el cliente)

Envío gratis en pedidos superiores a 70 € a toda España (Excepto motos)
Description
Cane lightweight composite leather flower and suede for comfort and durability.
Look very accomplished.
Membrane 100 % waterproof.
Top of the tongue and of the neck of the shoe leather for durability and comfort, providing also a touch of softness.
Rings of lace-up metal for an easy fastening and a secure and comfortable fit.
Protections ankle and heel as motocross, dual density and ergonomic for greater flexibility and security. Padding in the tongue and in the heel for comfort. New synthetic rubber compound, moulded to the cane to provide greater stability, grip, grip and durability. Midsole, reinforced for durability and solidity of the structure. Template removable and interchangeable, made of EVA foam and lycra. Logos metal with details and reasons modern graphics. Reinforcement inside the toe box. The boots J-6 Waterproof feature, CE certification.
Data sheet
You might also like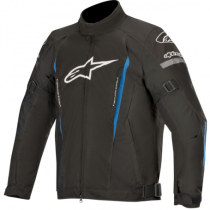 Customers who bought this product also bought: